22 Jul 2014 » Visualizing Twitter Friends
When did your friends join Twitter? Generating a visual timeline using Node.js & vis.js
---
18 Jun 2014 » A Nation of Makers

Today, President Obama hosted the first ever White House Maker Faire and said in a proclamation that made June 18 the National Day of Makers.
---
08 Apr 2014 » Making Sense of Data with Google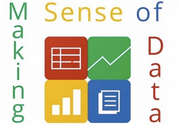 Free online course from Google that emphasises Prepare , Analyse & Apply model for data analytics. I was excited to learn from the experts in Google and challenge myself.
---